Location
820 Southdown Road Mississauga ON L5J 2Y4
Just Steps away from Clarkson GO Station!
Hours Of Operation
Monday-Friday: 8am to 5pm
Saturday & Sunday: Closed

Young Toddlers
Toddlers
Preschoolers

Infants
Virtual Tour Available!
Children's Palace Montessori & Daycare is currently OPEN. We will continue to monitor and follow peel public health guidelines. We require all visitors wear a mask/face covering and all inquires be done via email or through our tour booking form, we also offer a Virtual Tour of our classrooms and facility.
We ask all parents, staff and visitors to use the Ontario COVID19 self assessment tool daily prior to visiting our facility and to please stay home should you exhibit any symptoms.
Building Blocks to a brighter Future!
We are confident that the environment we provide will be learning conducive to your child's Emotional, Social, Academic growth and well being. We offer full-day and half-day child care services for Toddlers and Preschoolers 18 months to 5  years old.
What We Offer
Our Pre-School program follows  a Montessori Philosophy of Education which encourages children to learn to be an independent, self-directed child. Specially designed classroom and program materials are integrated with developmentally appropriate activities to provide the child with progressive learning in the areas of practical life, sensory, math, language and cultural activities which highlight diversity and inclusion.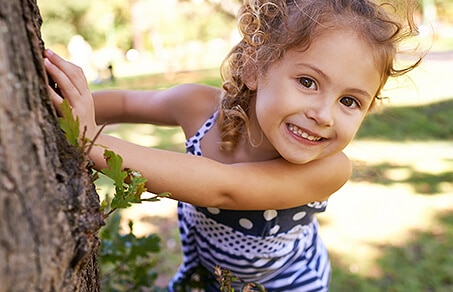 Along with the Montessori philosophy of education, another philosophy of our Centre is an approach to Emergent Curriculum which takes place in the toddler and younger preschool programs as a transition to the Montessori preschool. Teachers and children share a friendly environment based on trust and fairness. The teachers are also facilitators and their main role is to promote children's curiosity and interest, enhance their creativity, initiative and independence. Interaction with the environment, teachers as a role model and relationships based in love and trust are the key concepts to develop an educational method, which allows children to choose and initiate their own activities.
The learning process occurs through play and daily routines.
Music, Visual Arts, Science, Mathematics, Literacy and Sensory activities are the main components of the curriculum that focuses in all areas of development according to the age of the children. Curriculum and programming as well as interactions and physical environment follow a holistic view of the child. Diversity, uniqueness and equality are observed through an anti-bias and inclusive approach where every child is treated as a unique individual and at the same time every child is included in the program as part of a group.
The children are supported in a safe, nurturing and stimulating environment that promotes self-esteem and emphasizes child-selected and child-directed activities.
Each home, child and family is recognized as being unique. Family styles, values, cultures and traditions are respected and reflected in the curriculum.
Both Montessori and Emergent approach to Curriculum can complement each other, keeping save and healthy a very important and unique stage of human life: the childhood.
Trips will be made to special places of interest, through out the year. Information regarding destination, time, date and cost along with the permission slips to sign and return will be sent prior to going on any field trip. Parents are always welcome to accompany us.
About the School
We have dedicated classrooms for each curriculum, Montessori & Emergent programs as well as an outdoor play area, Gym and activity zone
What About Enrollment?
We believe in small class sizes to ensure your child receives the care and education in a safe, inclusive and fun environment. We encourage taking a tour of our facility and reserving your child's spot as we have limited availability
What Parents Say
My son was at this daycare since he turned 18 months and he loved it. Samana and Farzana did a... read moreMy son was at this daycare since he turned 18 months and he loved it. Samana and Farzana did a great job of making him feel at home while helping him gain independence and grow. He grew really attached to them and was sad when we moved. They provide healthy meals and lots of play based learning opportunities read less
As a new parent, few things give you more relief than when your child enjoys their first days at a... read moreAs a new parent, few things give you more relief than when your child enjoys their first days at a Montessori. Children's Palace is an appropriate name as the programming, the venue and the staff all put the children first and this was clear to us right away. It also helped provide reassurance and support for both us and our little one through the transition. I look forward to seeing how we grow together over the next several years. read less
Great teachers and my son is going home with happy face everyday:)
This is hands down the best daycare I could have hoped to bring my son too for his early years... read moreThis is hands down the best daycare I could have hoped to bring my son too for his early years education, development and care. My approached to searching for the 'best fit' consisted of online research, and making calls to arrange a drop in for myself and my son. I had also agreed to be wait-listed with any child care centers who were currently at capacity. It was a great task to find a daycare with availability that both fit my needs and wants.

I found Children's Palace Montessori on google maps. The staff answered the phone on my first call, quickly arranged for me to speak directly with the owner, Farzana, later that day. This may seem small however, this was the only daycare that had answered the phone immediately and on my first try. I recognized this as a very important detail if I were to be leaving my boy in their care. My son and I were welcomed for a visit within the week! It was the perfect visit. My son had clung to me during visits with other daycares and not at Children's Palace. When we arrived and made the first introductions he had immediately proceeded to engage with the other children and teachers. My son really felt comfortable in the environment Farzana has provided and I did too. Another great first impression of this visit was how clean the property was throughout the play areas, kitchen and playground. There were also no children with runny or drippy noses in sight!!

I have been bringing my son here for 10 months. Since starting his education and care I have noticed significant and crucial changes in his social, physical and speech development. He is a very happy guy and absolutely loves going to daycare. I have never experienced any harshness or mistreatment whatsoever. Everything about this school has been a pleasure. I receive weekly reports on what he has been learning, how he has been playing and socializing. Children's Palace has always been proactive and communicative with my son's development and learning. This is a 6 star daycare! Thank you so much Farzana and Team!! read less
Fully Licensed and Operated
We have an excellent teacher to child ratio and our teachers are Early Child Educator trained. Our Owner/Teacher is certified under the Association Montessori Internationale (AMI). Our Facility is well equipped and trained in Food Handling, Health & Safety and Emergency preparedness as guided by the Ministry of Education and Peel Public Health.